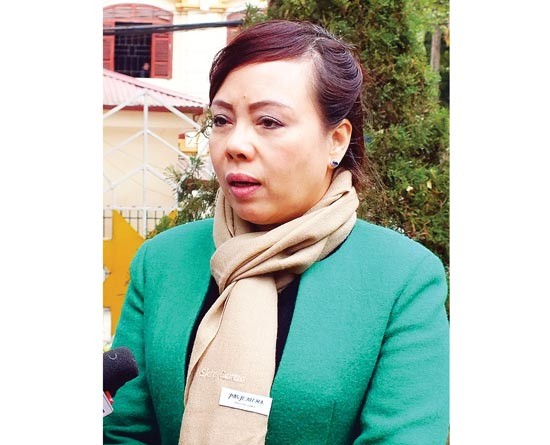 Health Minister Nguyen Thi Kim Tien (Photo: SGGP)
Health Minister Nguyen Thi Kim Tien yesterday confirmed that the health sector will continue reducing overload in hospitals and conducting administrative reform and raising treatment quality in order to improve patients' satisfaction.
She was quoted as saying to the press on the occasion of the Vietnamese Doctor's Day (February 27th).
In 2014, the health sector has made concerted efforts to carry out its mission and achieved good results. Highlight of the achievements is amendments in Health Insurance Law approved by the National Assembly which expand the insurance buyers' interest, said Ms Tien.
The health sector also offered more opportunity to insurance participants to access high quality technique by improving more medical services in the health insurance program.

In addition, public applauded the establishment of the Ministry's hot line which receive complaints of patients on the medical workers' behaviors, services and treatment quality in hospital. Through the hot line, the Ministry has directed hospital managers to handle violations and appraise good doctors and nurses who are devoted to their careers.

The health sector is striving to solve overloaded hospitals with two or more patients in a bed by expanding and upgrading hospitals , building new hospitals, reforming administrative and treatment procedure to cut waiting time. It has initially brought out good results as patient's waiting time to see doctors has reduced 50 minutes. 15 big hospitals pledged to solve the overcrowded and two or more patients in a bed, said Health Minister.

Ms. Tien said that the sector mission of 2014 is the continuance of raising treatment quality and cut administrative to meet patients' satisfaction as well as focusing on improving district medical clinics to raise primary health care. In addition, the sector will be more active in fighting pandemic, food safety and hygiene and environment cleanliness.
Especially, the sector will increase information of healthcare to residents in a bid to improve people's awareness of healthcare and protecting their health condition and families' as well as strengthen education to medical workers to improve their negative behaviors.