A new telephone and internet based health service has been given the go ahead by the Vietnamese Ministry of Health.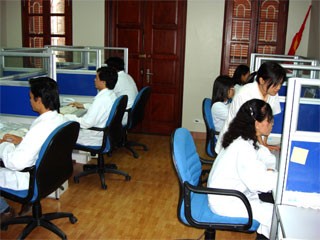 Doctors of the center are ready to provide consultation to patients(Photo: M.Tuan)
Operated in Ha Noi by the health center of FPT Telemedicine, the service is officially being launched in the middle of July.
To begin with, the tele-service will provide consultations for heart disease patients, whose mortality rates are high across the globe.
FPT Telemedicine members will receive portable medical equipment that can be used to measure a patients' blood pressure and so forth, results of which can then be transmitted through telephone and internet wires to the health centre.
When patients feel uneasy, they can use these devices and send their health data to the center, 30 minutes later they will receive advice from the center's doctors.