The VinaCapital Foundation and members of the Canadian Chamber of Commerce in Vietnam (CanCham) November 17 visited four of 14 children who received lifesaving heart surgery with funds raised from CanCham's annual charity golf tournament.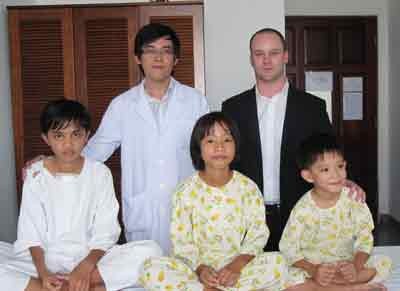 Dr. Hung (L, standing) of Tam Duc Heart Hospital and CanCham executive director Patrick Wolfe with children receiving heart surgery(Photo: Courtesy of VCF)
The operations took place last week and the children are now recuperating in Ho Chi Minh City's Tam Duc Hospital.
Visiting the children were Mr. Patrick Wolfe, CanCham's executive director, and Mr. Cory Vo, CanCham secretary of the Board of Directors. 
The CanCham Campaign for Heartbeat Vietnam is now in its second year and has raised over US$8,000 through the annual golf tournament and donations from the 200-strong CanCham membership base.
"We were thrilled to visit the children and see first-hand the results of our campaign with Heartbeat Vietnam," Mr. Wolfe said.
Heartbeat Vietnam, a program of the VinaCapital Foundation (VCF), has provided almost 1,200 heart operations since 2006 for children across Vietnam, as well as helping to improve cardiac and pediatric care in Vietnam via a telemedicine training series, equipment donations, and support for province-level pediatric outreach centers.  Donations made to Heartbeat Vietnam are matched 100 percent by the VinaCapital Group.  
The VinaCapital Foundation (VCF) was founded in 2006 to help alleviate poverty and improve the status of the poor in Vietnam; improve medical institutions, capacity, and access to quality medical care for poor patients in Vietnam; and to support programs that will build business knowledge and business leadership across the country to increase opportunities for investment and sustain economic development in Vietnam.