Although the country has plentiful herbs for making oriental medicines, it still imports tens of tons of crude herbal drugs, of which most come from China across border crossings, resulting in a dubious market that has no quality control.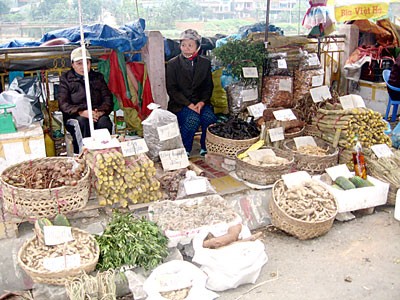 Herb collectors in border crossings (Photo: SGGP)
Dr.Tran Van On, head of the Biology Department at the Pharmacy University in Hanoi, said Vietnam imports 45 kinds of herbs that used to be planted in abundance in the country for domestic consumption.
 
Statistics show that the country consumes more than 50,000 tons of herbal drugs each year while locals can only supply 20 percent of the amount and the remaining comes from China in small volumes across the border crossings, which causes difficulties for health authorities to check for quality.
Sometimes, health watchdogs discovered some herbal drugs have been extracted of all their essential nutrients, which are no use for medicines.
 
Experts at the Traditional Oriental Medicine Association said planting herbs for making drugs in the country should be planned and the government should keep watch on herbs growing in the wild, and prevent people from over-exploiting them and selling to Chinese traders.
 
Tran Thi Hong Phuong, deputy head of the Department of Traditional Oriental Drugs, under the Ministry of Health, said tests proved that 60 percent of 400 drug samples taken from traditional medicine clinics in the country failed to meet the quality and 20 percent of them were mixed with dangerous chemicals and low nutrient content herbs.

At least three imported herbal drugs from China were absolute fakes, made from carbonate and from cement.