Hand-foot-mouth affected patients are finding it increasingly difficult to pay for the high cost of treatment in hospitals, even though the government has agreed to pay for the basic cost of medicines.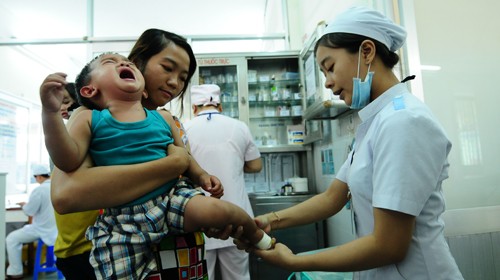 A boy cries while taking a medical examination at a HCMC-based hospital
Some hospitals have agreed to cover the medicine costs as requested by the government, but many cite various reasons for not doing so.
Their justification is that hospitals are required to send out bids for contracts to drug providers of the essential HFM Gamma Globulin medication, which process takes a very long time, which is a setback while treating a patient.
Another reason cited is that insurance only covers for VND10 million (US$485) per day per patient. However, with an increase in patients the cost has escalated to much more than VND10 million.
Consequently, district hospitals like the General Hospitals in the southern provinces of Binh Duong and Dong Thap transfer patients in serious condition to Children Hospital No.1 and 2 in Ho Chi Minh City, causing an overload in these city hospitals.
The average cost to the hospital of a hand-foot-mouth patient is anything from VND35million ($1700) to VND40 million per treatment, says Tang Chi Thuong, director of Children Hospital No.1, .
As per latest statistics from the Department of Preventive Medicine, the country has reported 2,200 fresh cases of hand-foot-mouth in 50 provinces and cities, bringing the total number since the beginning of the year to over 35,000 cases including 83 fatalities.
Nonetheless, the ministry has stated that the disease is at a decline, as eight provinces and cities have reported a slowdown in the number of cases.
All the same, as per the Ministry of Health order, the Vietnam Drug Administration and pharmaceutical companies maintain a stockpile of the Gamma Globulin medication, in case of an emergency.
A new virus enterovirus 71 has been blamed for the increasing number of HMF patients, according to Director Nguyen Tran Hien of the National Institute of Hygiene and Epidemiology. Around 70 percent of HFM patients tested positive for the new virus enterovirus 71.
Parents are being constantly requested to maintain good personal hygiene in children from preventing spread of the infection from the sick to the healthy.
In related news, the Department of Health in HCMC yesterday reported 11 fresh cases of dengue fever in Nha Be District of Ho Chi Minh City. Can Gio District too reported 3 cases of dengue fever.
An increasing number of infections shows the Deputy Minister Trinh Quan Huan's orders to contain the outbreak of dengue fever in Nha Be and Can Gio Districts have not been followed by the Department of Preventive Medicine.

The Department needs to urgently step up measures to fumigate residential areas of the infected districts.