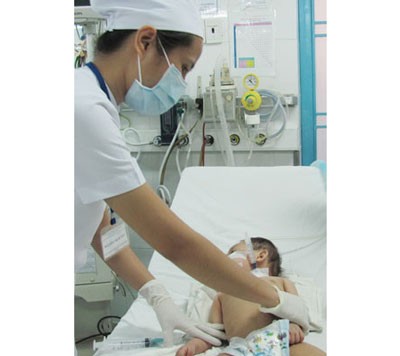 Nurse takes  care a baby contracting hand-foot-mouth virus in Children Hospital (Photo: SGGP)
Most of the preschools in Ho Chi Minh City started their session after a short summer break, but as happens every summer, children are most susceptible to Hand-Foot-Mouth disease at such a time of year, according to the Department of Health.

Preschool teachers checked all students when they came to school as HFM disease had occurred last year during the same period.
Last April, at least 10 toddlers from Hoa Lan Preschool in An Phu Tay Commune in Binh Chanh District were infected and three had to be hospitalized.

The Infectious Disease Faculty in Children Hospital No.2 receives 40-50 inpatients every day. Doctors thus warn parents to bathe children with soap, wash their hands and disinfect houses with special chemicals.

According to the Department of Preventive Medicine under the Ministry of Health, medical units have been ordered to enhance supervision when schools start.

The Department said nearly 15,000 HFM cases have been reported since the beginning of the year, with four children succumbing to the disease.