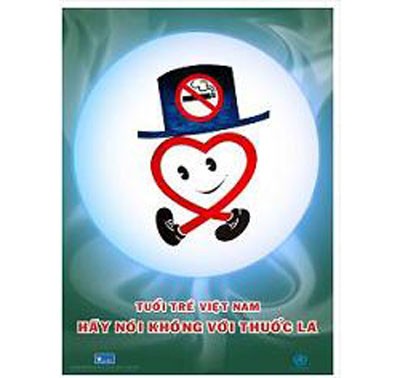 A banner calls for quitting smoking in Vietnam
Vietnam has one of the men's highest tobacco smoking rates in the world, with 56.1 percent of men being active smokers, Dr. Ly Ngoc Kinh, deputy head of the Steering Committee on Smoking and Health, told the media in Hanoi on May 25.
There are an estimated 40,000 deaths from smoking-related diseases each year, four times the number caused by road accidents.
But smokers only have vague understanding of the harmful effects of tobacco, he said, and not much about the diseases it can cause.
The small space dedicated to health warnings on cigarette packets is not effective in describing the harmful effects of tobacco, he said.
The statutory warning only covers 30 per cent of a pack and simply writes "Smoking can cause lung cancer."
On the other hand, in many countries such as Singapore, Thailand and Brunei, there are pictures and warnings covering almost the whole pack.
In addition, the warnings are changed frequently as well in these countries.
The Ministry of Health and the World Health Organization held the conference to mark the nation's No Smoking Week, from May 25 to 31.