Medical experts are concerned that many people with HIV in the country will be forced to drop their anti-retroviral (ARV) treatment in 2017.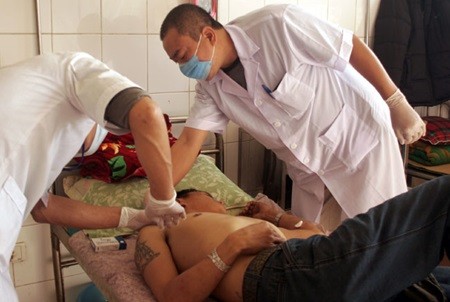 A HIV patient receives treatment at the 09 Hospital in Ha Noi. Medical experts say that many people with HIV in the country will drop their anti-retroviral (ARV) treatment in 2017 when it will no longer be free. — VNS Photo Doan Tung
This is because international aid, which covers all medical fees for people with HIV, will cease, according to the Nong thon ngay nay (Countryside Today) newspaper.
The funding stoppage will be fully introduced in 2017 because Viet Nam has now been classed as a middle-income country. Until then, international aid will cease for new cases.
Nguyen Hoang Long, head of the Health Ministry's Administration of HIV/AIDS Control said ARV drugs could suppress the HIV virus, stop the progression of HIV and reduce HIV infections in the community.
Long said about 98,000 people with HIV had received free ARV treatment in the country to date. He said it cost about VND420 billion (US$19 million) a year to treat 98,000 people with HIV.
Thus, the cost for medical treatment fee for one person treated with ARV was about VND4 million (US$181) a year.
In response to the situation, the health ministry has issued circular no 15/2015/TT-BYT saying that the health insurance agency will cover all costs for ARV treatment, but only for pregnant woman and children under the age of six with HIV.
The circular added that from 2017, the agency would cover 80 to 95 per cent of medical fees for ARV treatment for other people. They will have to contribute about 5-20 per cent of total fees.
Do Thi Nhan, head of the department's HIV/AIDS Examination and Care Office said that this was a significant effort by the national health sector.
Grant support
The US Agency for International Development (USAID) yesterday launched the Healthy Markets Innovation Fund to support innovative social enterprise ideas for HIV-related commodities and services in Viet Nam.
The fund offers opportunities for organisations, non-profits, and businesses in Viet Nam to engage in HIV response by contributing and investing in innovative ideas to increase the supply of HIV goods and services.
Promising ideas chosen by a panel of HIV and social impact experts will compete for award packages of financial and in-kind support, such as business mentoring and technical assistance for implementation.
"The Healthy Markets Innovation Fund is a new exciting opportunity to engage and support private sector and community entrepreneurs with enterprising ideas that can contribute to the HIV response," she said.
The fund is implemented under the umbrella of Healthy Markets, a five-year project that aims to leverage private sector and social enterprise skills, resources, and innovation to contribute to a sustained HIV response for populations facing the greatest risks.
About 80 per cent of funding for HIV response in Viet Nam comes from external donors.
Domestic resources are declining as international donors withdraw from Viet Nam. Finding alternative sources to maintain the provision of HIV related goods and services is crucial.
"In the coming years, as Viet Nam looks for novel ways of sustaining the HIV response, it will need to reach out to new partners and find new methods of providing goods and services," said US Consul-General Rena Bitter.