Leaders and senior officials from the Ministry of Health (MoH), the US Embassy, local authorities, HIV workers and community groups, and celebrities gathered in Ho Chi Minh City yesterday at a launching ceremony of the first-ever HIV self-testing services in the country.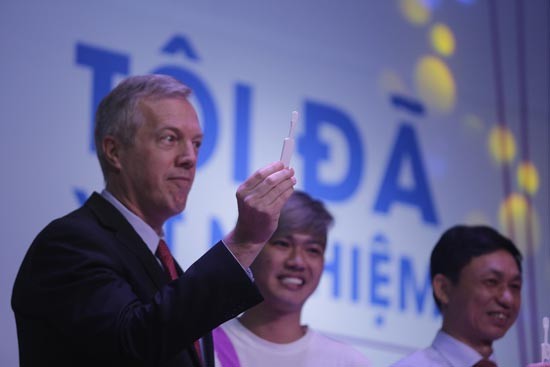 US Ambassador Ted Osius at the launching ceremony of the first-ever HIV self-testing services  (Photo: SGGP)
The launch marks a new trend in Vietnam, where HIV-affected populations will have a new choice to test themselves for HIV in a private and confidential way, and therefore be the first to know their preliminary results.

HIV self-testing is a new strategy to increase access to HIV services and accelerate achievement of the government of Vietnam's '90-90-90' goals. It means that by 2020, 90 percent of all people living with HIV will know their HIV status; 90 percent of all people with diagnosed HIV infection will receive sustained antiretroviral therapy; 90 percent of all people receiving antiretroviral therapy will have viral suppression.

HIV self-testing has the potential to significantly increase HIV testing uptake among at-risk populations, particularly those who are reluctant to get tested at health facilities. Fear of stigma and lack of confidentiality can pose barriers to HIV testing, but this may change with this new HIV testing option.
Director of the Vietnam Administration for HIV/AIDS Control (VAAC), Dr. Nguyen Hoang Long said; "HIV self-testing is the next step in increasing access to HIV testing, and normalizing it as other over-the-counter rapid tests do (e.g., for diabetes or pregnancy). It can help Vietnam in achieving 90-90-90 by reaching the yet unreached individuals and enrolling those that have HIV into treatment services."

Since October 2015, the Healthy Markets project, supported by the US President's Emergency Plan for AIDS Relief (PEPFAR) through the US Agency for International Development (USAID) and implemented by PATH, has collaborated with the MoH to introduce community-based HIV testing options for key populations, including HIV self-testing.

"Now, our Vietnamese and American partnership is launching HIV self-testing, which puts testing directly in the hands of the individual. HIV testing has never been as simple as it is with a self-test. Anyone at risk can learn their HIV status confidentially, privately, and in a safe way," said US Ambassador Ted Osius.
 
The government of Vietnam has committed to the United Nations 90-90-90 targets toward ending the HIV epidemic. Although Vietnam has seen a reduction in new HIV infections over recent years, there is low annual uptake of HIV testing among key populations at high risk of transmission. This includes people who inject drugs, men who have sex with men, transgender women, and female sex workers.
 
Through PEPFAR, the US government works closely with the MoH; Vietnam Social Security; the Global Fund to Fight AIDS, Tuberculosis and Malaria; and others, including PATH, to develop a sustainable HIV response that continues as Vietnam assumes more of the financial responsibility and implementation of its HIV programs and antiretroviral drugs.