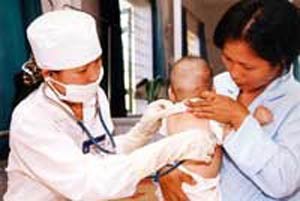 An infant with HIVAIDS infected by his mother receives check-up in the Ha Noi Social Education and Rehabilitation Centre 2.
The Ministry of Health launched an HIV/AIDS prevention communication campaign month, the second month of 2006, in Ha Noi yesterday with the theme, "Keep promise to fight against HIV/AIDS" to respond to World AIDS Day (December 1).
Among the messeges delivered throughout the campaign month, which lasted from November 15 to December 15, are "Fighting against HIV/AIDS is protecting your family and yourself" and "Say No to reuse of injection needle or hypodermic syringe to watch out for mother-to-child transmission".
According to Vice Minister of Health Trinh Quan Huan, there have been around 131,500 people living with HIV/AIDS since the first case was found in December 1990 and over 11,000 of them have died of AIDS so far.
The disease is still out of control in Viet Nam though the country has successfully lowered the speed of HIV/AIDS transmission, Mr. Huan said; most of the infected people are at the working age and high-risk infected groups so far are drug addicts and sex workers.
Viet Nam is currently spending around US$5-6 billion a year for the prevention and control of HIV/AIDS.