People start to take their children to health clinics for vaccination again in Ho Chi Minh City after they have worried about the vaccination accident for three weeks.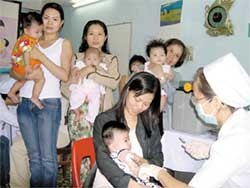 Children are taken to Distrcit 5's health unit on May 29
According to the latest record on May 29, the number of children coming for vaccination in health units in districts and suburbs has reached to 80-90 %.
In the two health units of wards 13 and 14 in district 8, nearly 100 children had injection and 60 children came for diphtheria- pertussis – tetanus, hepatitis B and measles vaccination.
In health units of Hoc Mon and Cu Chi districts, the same number of children coming for vaccination as in April. Especially, children coming for vaccination in health units in district 5 has exceeded the expected number.
Some families took their children for vaccination on schedule although they have moved to other places; as a result, injecting team had to mobilize more vaccine for all children. Some pregnant women also came for free vaccination to prevent tetanus.
In some districts, health officials are calling for cooperation of families to take children to health units for vaccination in the national vaccination and disease prevention program on schedule in order to improve resistance and reduce the risk of diseases in children.