Ho Chi Minh City's Heart Institute will spend over VND100 billion (over US $6 million) to build two more heart surgery theaters and a heart-clearing room.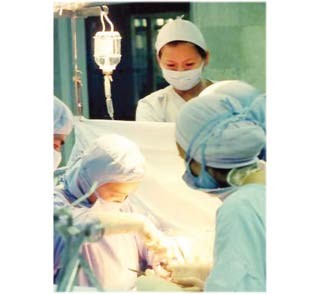 A heart surgery is carried out at the Heart Institute in Ho Chi Minh City
Prof. Alain Carpentier, President of the Supervision Council of the Heart Institute, agreed with the plan, said Director of the Institute Dr. Nguyen Ngoc Chieu on May 28.
As part of the planned project, one surgery room will be dedicated to conducting operations on infants under 28 days old.
Operations will be boosted from 1,300 to 2,000 cases per year, with 180 beds for in-patients and the number of examination rooms doubled to 12.
The Alain Carpentier Foundation of France will continue to receive and provide intensive training to surgeons and technicians from the Heart Institute, said Dr. Chieu.