At the governmental conference Ho Chi Minh City suggested several policies and resolutions for greater effects.
 
Firstly, calling on investment in social infrastructure does not mean that governmental spending on this field will be reduced but government along with everyone in society invest in it to enhance the quality and focus on major services according to Chairman of the City People's Committee Le Thanh Hai.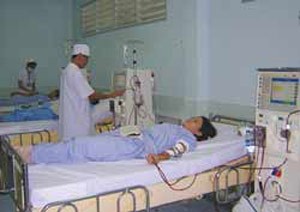 Health clinic in Cu Chi was equitized
Therefore, Ho Chi Minh City suggested switching from state subsidy to offering grant for certain kinds of people, for example, awarding fixed grants to pupils and students. However, the government must manage service fee to prevent these businesses' trying to maximize profits.
Secondly, when the investors strictly follow Viet Namese investment rules, they are exempt from paying tax until they have taken back all their investment capital.
Thirdly, able-to-be-privatize hospitals should be allowed to operate as a company. A state hospital in Ho Chi Minh City has been permitted to privatize and it is completing the procedure.

The purpose of privatization is to appeal society's money for expanding and upgrading hospital facilities and raising treatment quality. Therefore, the government will not reduce its investment while appealing capital from all economic sectors.
Prime Minister Phan Van Khai accepted the proposal to equitize some education and health sectors provided that governmental capital is kept.