Many residents of Ho Chi Minh City who have health insurance cards flock to Hoan Hao Hospital in neighbouring Binh Duong Province, as it does not discriminate card holders and even offers a fee that is 10 per cent cheaper than other public hospitals anywhere.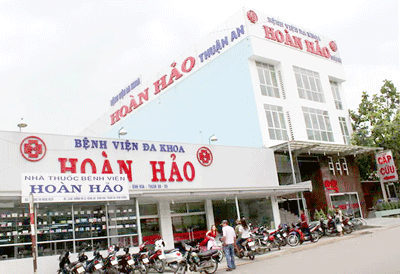 Hoan Hao Hospital in Binh Duong Province is charging cheaper rates for people with health insurance (Photo: SGGP)
Hoan Hao Hospital on Kha Van Can Street in Di An District in Binh Duong Province offers cheaper fees than other public hospitals in HCMC and in Binh Duong Province.
The private hospital has really become a bright spot for sick patients and is contributing greatly towards the healthcare sector. 
Le Ngoc Anh and Do Thi La are one couple that were pleasantly surprised to receive a bill of only VND63,000 for consultation and examination. T
hey thought perhaps the hospital staff had made a mistake in calculating but were assured that this was indeed the amount they had to pay. They were also told that they received 80 per cent tax exemption because they both had health insurance.
Similarly, a pregnant Nguyen Thanh Huyen said that after working hours she visits the doctors and for just an additional fee of VND13,000 she will receive free consultation after birth of her child in the hospital.
Patients are happy and satisfied with the good services at the hospital and have nicknamed it "Common Hospital", implying that it is for the common man such as workers, local residents and patients in the area.
Pham Van Tu, the hospital director, said more than 100,000 patients arrive at the hospital and many of them are from HCMC, as hospital fees are cheaper here. Health insurance card holders are admitted to the hospital without any discrimination and pay only 20 per cent of the bill like in a public hospital.
Meanwhile the income of hospital staff is around VND17 million (US$816) and for doctors from VND20-30 million ($960-$1,440), quite high compared to an average salary.
In the present economic downturn, many public hospitals complain that they have to struggle at old rates and private hospitals are trying to raise service charges to make ends meet.
Hoan Hao Hospital has maintained its good services despite the economic downturn. In addition to four units in Binh Duong Province, the management board plans to open one more hospital in District 9 of HCMC.
Hoan Hao Hospital has helped to raise the quality of medical service, reduce overloading in city hospitals and ensure the basic rights of patients. The city should replicate such examples to increase more and better well-being in the healthcare sector.