Hoan My Saigon Hospital in Ho Chi Minh City on January 14 announced its first successful heart surgery on a 6-year-old boy.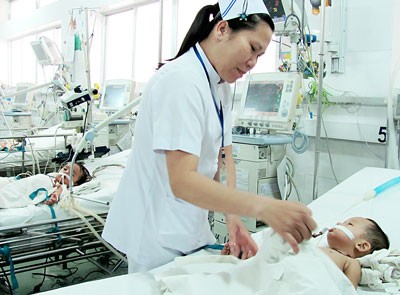 Treatments for a hand, foot and mouth disease case at a hospital in Ho Chi Minh City (Photo: SGGP)
6-year-old Le Nguyen Duy from Binh Duong Province was born a healthy child, according to his family. However, when he was taken to hospital for a free medical examination, doctors said that his heart ventricles were open and advised an operation.
The heart surgery took two and a half hours. Doctors reported the boy's condition stable after the operation, saying he would be discharged within the next four days.
The entire cost of the surgery, of VND50 million, was shouldered by Dr. Nguyen Huu Tung, Director General of the Hoan My Medical Corporation.
Dr. Tung plans to donate VND1 billion towards heart surgeries of disadvantaged children in 2012.
Approximately 8,000 children are born with valvular heart conditions every year in Vietnam, but only about 1,000 children have access to medical surgery.