HA NOI (VNS) — The Ministry of Health has asked the centrally-run Bach Mai Hospital in Ha Noi to work closely with local police to ensure security and order inside the hospital for patients and their relatives as well as doctors and medical staff.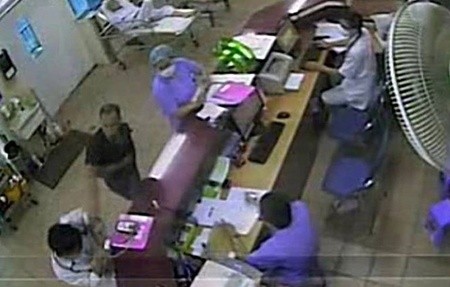 An image taken from the Bach Mai Hospital's CCTV shows a patient's relative (in black) attacking a doctor last week. Security at the hospital has been tightened to ensure safety for doctors, medical staff, patients and their relatives. — Bach Mai Hospital Courtesy Photo
The move followed an incident that occurred last Friday when a patient's relative violently assaulted three medical staff at Bach Mai Hospital, including a 28-week-pregnant nurse.
According to a report from the hospital, in the morning of July 25, Nguyen Tien Dung, 35, took his wife to the hospital's emergency ward where doctors diagnosed her with digestive disorder.
Seeing his wife in pain, Dung thought the doctors had deliberately ignored her and started to insult hospital staff. He allegedly took a chair and attacked nurse Le Diep Anh, who was seven months pregnant, causing her to faint. He continued to attack other workers in the emergency ward.
Dung later called other people to come to the hospital to threaten the medical staff but they were stopped by the hospital guards and local police.
Dung was arrested on the afternoon of the same day.
Residential police reported that Dung had no criminal record but was a drug addict. He was forced into a rehabilitation centre a year ago.
Vietnam Television reported the nurse was under close supervision after signals of foetal damage.
The emergency ward at Bach Mai Hospital is reported to receive an average of 100 to 150 emergency cases per day. Doctors said at a press conference later they had checked on Dung's wife's case and classified it as four out of ten on a scale of seriousness.
In an urgent message to the hospital later that day, the Department of Diagnosis and Treatment Management asked the hospital to solve the consequences of the incident to avoid disorder at the hospital and continue to treat patients as normal.
The hospital has been asked to provide information to the police and media about the case to avoid similar instances happening in the hospital and other medical centres around the country.
This was not the first time hospitals were attacked.
In September last year, a group of 30 armed gangsters rushed into Gia Dinh People's Hospital in HCM City looking for a patient admitted to the emergency ward. They smashed the door and threatened to kill the doctors. A month earlier, two doctors at Vu Thu General Hospital in the northern province of Thai Binh were stabbed, one of them to death, after they pronounced a patient dead after treating him for an hour in the emergency room.