Ho Chi Minh City People's Committee had planned a project to build hospitals at entry gates of the city in 2007, to reduce pressure on clinics within the city, but till today no hospital has been built.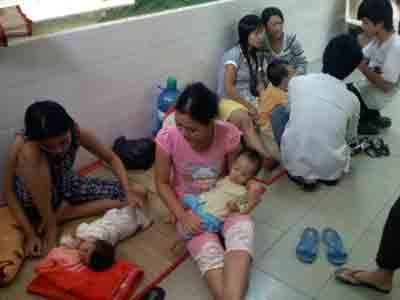 Young babies wait in corridors of Children Hospital No.1 in HCMC because of lack of beds (Photo: SGGP)
The City People's Committee had asked the Department of Health to implement the project. Under the project, hospitals in districts 7, Cu Chi, Thu Duc, Hoc Mon, Binh Chanh, Children Hospital No.1 and Traumatic Orthopedic Hospital would be upgraded to first and second class hospitals with 1,000 beds each.
Tran Vinh Hung, Director of the General Hospital in the suburban district of Thu Duc, sounds weary when asked about the project to upgrade hospitals in the city.

Hung said the hospital has been in poor shape for years, while patients are continually increasing with added pressure from patients streaming in from neighboring southern province of Binh Duong, as the hospital is located at the edge of Thu Duc.
The hospital holds a successful record of applying advanced technologies in brain surgeries, tumors and colonoscopy (internal examination of the colon (large intestine) and rectum), using an instrument called a colonoscope.
Consequently, if the hospital is upgraded, it will receive patients from central, South East and highland provinces, helping greatly in reducing pressure on the bigger hospitals of the city.
Worsened conditions prevail at the General Hospital in district Cu Chi which suffers an overload of patients from the southern province of Tay Ninh and even from Cambodia.
Earlier there were a few hiccups along the way in carrying out the hospital construction, because residents did not agree to the land compensation and resettlement offers.
According to Dang Quang My from the HCMC Department of Health, agricultural landowners did not agree with the land compensation amount offered by the government and now the projects have been stalled till 2012.