National Odonto-Maxillo-Facial Hospital together with Vietnam National Salt Corporation plans to distribute 20 tons of free salt mixed with flour to residents of Bat Xat district in the northern mountainous province of Lao Cai, to help prevent tooth decay.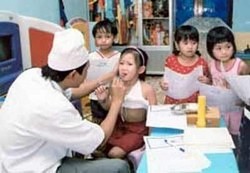 Dentist examines little children for dental diseases
Dr. Trinh Dinh Hai, director of the National Odonto-Maxillo-Facial Hospital, said the hospital wanted to prevent tooth decay in residents within a three year program, after which it will move on to another  mountainous provinces in the north.
According to the latest survey on dental health in the country, over 90 percent of Vietnamese suffer from tooth decay and oral infectious diseases, especially in the 35 to 44 year age bracket where up to 98 percent are affected.
Tooth decay, crooked teeth and gum diseases like gingivitis or periodontitis in children are common in many parts of Vietnam.
Dr. Hai said that this very high percentage of Vietnamese people suffering from dental diseases is due to low levels of fluoride in water in some regions and poor oral hygiene in people living in rural and remote areas.