Vietnamese citizens say they are weary of long line-ups and treatment delays at the country's hospitals. In many healthcare centers, patients are forced to share a bed with two or three other people and face postponement of urgently needed care.
Hospital managers say that overcrowded medical clinics puts patients at risk, but feel they are helpless to change the situation.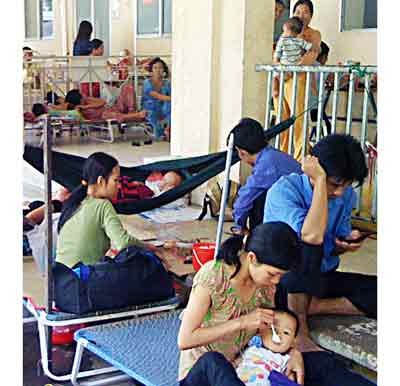 Parents and their children resort to resting on cots along the overcrowded corridors at Children Hospital II in Ho Chi Minh City ( Photo: SGGP)
Sixty-three-year-old patient Ms. Dang Huu Vinh said she had been badly bitten by mosquitoes while sleeping on a cot outside a room in the General Division of Phu Nhuan Hospital.
She needed to be hospitalized for high blood pressure but there were no more beds available in the department. She had no choice but to sleep in the hallway at night.
Hundreds of critically ill patients wait their turn to see doctors at the Phu Nhuan Hospital. Ms. Tran Thi Thuy said she had to take a number and wait three hours to a see doctor.
Patients at HCMC's Binh Thanh hospital, meanwhile, regularly wait similar periods to receive X-rays, tests and pharmaceuticals.
In the wake of new health insurance laws stipulating that people must seek medical treatment at their local infirmaries, small clinics are under high pressure. In addition, due to a severe shortage of facilities, personnel and equipment, most clinics cannot cope with the pressure.
 
Now that several of HCMC's district medical centers have been upgraded to hospitals, they receive about 300-500 most days and up to 1,000 patients on Mondays and Tuesdays.  In the upgraded central hospitals, the number of patients has swelled twofold. 
The situation is worst at Cho Ray Hospital in Ho Chi Minh City where patients can wait up to two days for critical surgery. The delays are alarming but unavoidable due to the sheer volume of patients.
Cho Ray has increased its number of beds from 1,300 to 1,800, yet it can still only meet 50 percent of checkup and treatment demand. It is not uncommon to see the ill and their relatives sleeping on makeshift mattresses in all nooks and crannies of the hospital as they wait for treatment.
The Ho Chi Minh City-based Tumor Hospital has had to resort to lining the corridors with rows of beds and converting all rooms into treatment areas. It has recently seen an influx of around 1,700 in-patients and 8,000 outpatients a week.
The Trauma and Orthopedics Hospital, Children Hospital I, People Hospital 115 and other public hospitals face similar situations.
Dr. Le Hoang Minh, director of the Tumor Hospital in the city's Binh Thanh District, said; "When hospitals operate at full or overloaded capacity, serious problems can arise. The treatment quality and the supply of valuable resources, like beds and staff time shrink."
Hospital overcrowding is also a safety issue, he said, when patients experience long delays in care, it can lead to increased treatment charges.