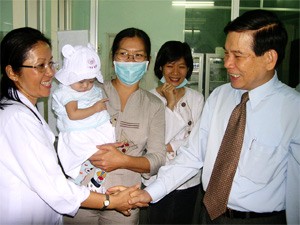 Mr. Nguyen Minh Triet ( 1st, R) congratulates doctors (Photo:N.T)
Nguyen Minh Triet, a Politburo member, Ho Chi Minh City Party Chief and the city leaders paid a visit and awarded certificate of Merit to doctors of the Pediatrics Hospital II  for their successful liver transplants.
Belgian experts have transferred the technique in liver transplant to Vietnamese doctors; they have carried out  liver transplants for Xuan Quy, 23 months old, in December, 2005 and Thanh Giang, 12 months old, in March 2006.

The hospital is preparing for the third operation at the end of December, 2006.