The discipline council of central Ninh Thuan Province's General Hospital cut a doctor's salary December 1 after she falsely pronounced a newborn infant dead. Another doctor and two nurses were also reprimanded for the incident which occurred last month.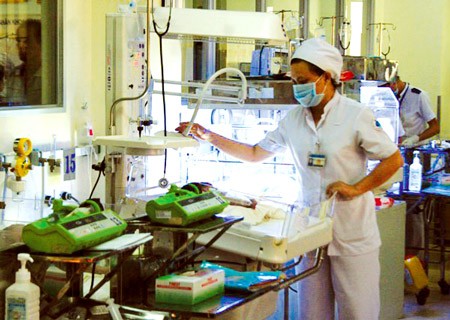 HCM City's Pediatric Hospital No.1 healthcare worker attends to the infant falsely pronounced dead ( Photo: SGGP)
Dr. Tran Thi Hong Hoa, head of the night shift on November 11 at the hospital's Obstetrics Department, had her salary decreased while Dr. Nguyen Thi Thanh Xuan and nurses Le Thi Hong Van and Nguyen Thi Tuyet received warnings.
The staff admitted they had acted hastily in concluding the baby was dead and accepted the disciplinary action.
The newborn son of Truong Thi Thanh Truc was pronounced dead November 11. Staff asked his relatives to bury the infant's body, but to their shock, the family realized the baby was still alive after bringing it home for a funeral.
They rushed the baby back to the hospital but despite the father's desperate pleas, staff reportedly refused to treat the child saying he would likely die as the infant was born prematurely weighing just 1.2 kilograms. It was not until Ms. Truc's husband flew into a rage that staff agreed to start resuscitation efforts.
The baby was later transferred to the Ho Chi Minh City-based Pediatric Hospital No.1 and is reportedly improving.
In response to public opinion that the punishment for the staff is not adequate, Director of the provincial Health Department Le Minh Dinh said his division would reconsider the discipline after conducting an investigation.
The hospital council will submit its decision to the Health Department for an official recommendation.