All Ho Chi Minh City heart patients under six years old will continue to receive free medical treatment no matter how expensive it is, Dr. Luu Thi Thanh Huyen from the city's Social Insurance Agency said on October 24.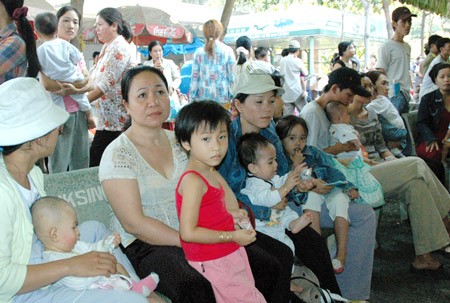 Children wait for examinations at Pediatrics Hopital No.1.
Sai Gon Giai Phong recently reported some city hospitals were continuing to charge fees for surgery carried out on children with heart defects.
The local Social Insurance Agency subsequently said it would step in to ensure rules weren't being violated.
Dr. Huyen, from the Health Insurance's Payment Survey Division, said that because the cost of some medicines and equipment were not officially listed as part of the free treatment program, hospitals were forced to charge extra fees.
Hospitals and the Social Insurance Office need to work with authorities to make a list of expenses not currently covered under the free treatment plan, Dr. Huyen said.
City Social Insurance Office officials said they collaborated with the Pediatrics Hopital No.1 and Cho Ray Hospital to resolve the issue.
In the near future, they will also work with the Tu Du and Tumor hospitals to ensure families are not charged for their child's heart operations or follow-up treatment.