Under guidelines issued by the Ministry of Health on September 17, medical facilities around the country can set up consultations and take tests for those who do not suffer flu-like symptoms but still want a check-up.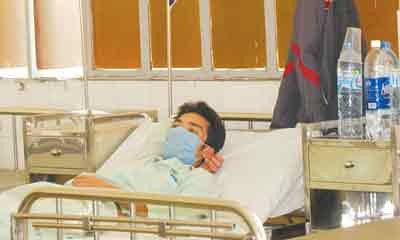 A person who suspected of having A/H1N1 is being treated at the general Hospital in HCMC's Thu Duc District (Photo: SGGP)
Workers in medical establishments need to provide timely treatment for suspect cases that have been in contact with those infected with swine flu.
Tamiflu should also be provided to those who are living in affected zones, even if they have not been tested, the ministry said.
The ministry also ordered hospitals in districts to keep infected people quarantined. Only seriously ill patients should be transferred from district hospitals to central hospitals.
Medics should strictly monitor those who are receiving treatment yet try to avoid moving people to other hospitals to avoid spreading the flu in the community.
On the same day, the ministry implemented prevention plans in southern and highland provinces where officials have neglected the virus.
Dr. Nguyen Huy Nga, director of the Department of Preventive Health and Environment, said the ministry is considering purchasing some dozes of vaccines for people belonging to high-risk groups, like those suffering chronic disease, the elderly, children, pregnant women and health workers.
He was also concerned that there will be a large outbreak during the upcoming flu season.
Dr. Nga said some provinces have ignored swine flu prevention and did not have detailed prevention plans.
The head of the Pasteur Institute, Tran Ngoc Huu, complained that his staffs are overloaded with conducting tests.
In addition, the institute owes VND4 billion for carrying out so many tests but the Ministry of Health has not provided any funds.
Health authorities on September 17 announced that 235 people tested positive for swine flu, raising the total number of A/H1N1 cases in the country to 5,961 with six deaths.
Of them, 4,593 people have been discharged from hospital, with the remaining being treated, all are reported to be in a stable condition.