Over recent days, the northern and central provinces throughout the country have experienced extreme heat wave with the highest temperature of 40- 42 degrees Celsius, causing many adults and children to suffer from diseases.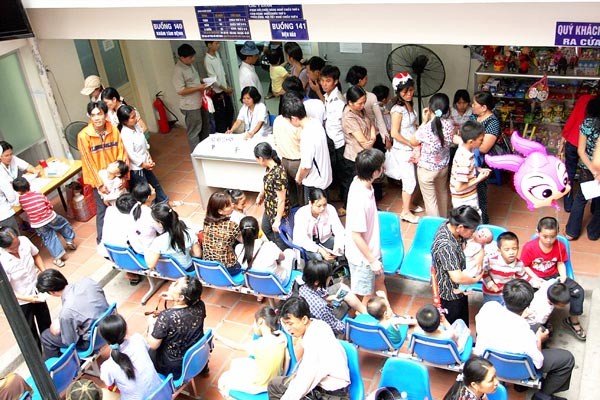 Crowded children and their families wait to see doctors at Hanoi base- Central children hospital. (Photo: SGGP)
During past three days, Saint Paul Hospital was overcrowded with 800 child & elderly patients, an increase of 15 percent against normal days.
Every day, the Hanoi-based Central Children Hospital receives around 2, 500- 3, 000 cases of heat exhaustion because of coughing, Severe Acute Respiratory Syndrome (SARS), high fever, virus fever, headache, encephalitis and hives outbreak are reported.
Unusual changes in weather conditions, environmental pollution and unsafe food have caused many child & older patients to suffer from the diseases such as diarrhea and vomiting, flu, rubella, hemorrhagic fever, hand- foot- mouth and others.
The country has had nearly 37, 000 significant cases of hemorrhagic fever, including 11 people died, an increase of 2, 9 times in comparison with the same period last year.
According to the Ministry of Health, there are over 200 cases of encephalitis outbreak, including two people died in Vietnam.
Dealing with the extreme weather condition, Ministry of Health advised residents need to implement measures on health protection and food safety.