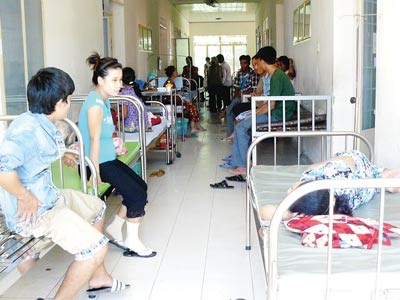 Hospitals overloaded with dengue in-patients (Photo: SGGP)
As per the Ministry of Health's figure, the dengue fever had spread to 53 out of the country's 63 provinces and cities, infecting 45,000 and claiming 28 lives.

Worse, new infection cases showed upward trend with average of 2,000 cases per week.
The sharp rise in the number of dengue patients caused to overload local hospitals. It has seen 2 and 3 dengue patients in a bed in the National Hospital for Tropical Disease in Hanoi.
Dr. Nguyen Van Kinh, the hospital's director fretted as many as dengue patients from northern provinces flocked to the hospital for treatment.
By statistics, the hospital admitted nearly 800 patients including 5 percent of them being in serious condition.

Dr. Tran Dac Phu, head of the Ministry's Preventive Health Department, said that through investigation, the southern provinces become hot spots of the disease with over 35,000 infections.
Especially, Ho Chi Minh City is leading the country with around 10,000 infections with 3 deaths; followed Dong Nai Province with 5,300 infections and 3 deaths and then Binh Duong province with 7 dealths and more than 3,000 infections.
An overload in Children's Hospitals 1 and 2 becomes serious because of the sharp rise in the number of dengue patients on October 7. In the Children Hospital No.1 from the early October, the hospital received from 6,000-7,000 kids for examination and over 10 percent of them must be hospitalized. Total in-patients in one day are up to 2,300 while the hospital has 1,500 beds.

Dr. Le Bich Lien, deputy head of the hospital, said that the rise in the number of dengue patients, plus the surge in patients reported with hand, foot and mouth disease and respiratory illnesses has caused serious overloads in the hospital. The Dengue Department admits 110-120 in-patients per day and the Respiratory Department receives nearly 300 in-patients a day and many of them are in severe condition.

The situation is the same in the Children Hospital No.2. The hospital admits 1,700 in-patients and over 5,000 out-patients a day. In the Hospital for Tropical Disease, it has seen a hike in the number of dengue kids and adults.
The central province of Khanh Hoa reported one death in Van Ninh District and 2,790 infections, an increase of 341 percent compared to same period last year.

Hanoi is leading in the North with over 3,000 infection cases in 30 districts, a fivefold increase compared to last year.
Yet, there has been no death in Hanoi.

Though the epidemic has developed complicatedly, residents have still neglected in preventing it.
Nguyen Nhat Cam, director of the Preventive Medicine Center in Hanoi, said that the health sector has launched campaigns to clean the environment to kill mosquito larva and spray chemicals but some households did not allow spraying chemical in their houses.
Symptoms include high fever (at 39 degrees Celsius or higher), headache, muscle and joint pains, and a characteristic skin rash that is similar to measles. It is unadvisable for dengue patients to take antipyretics of their own choice or treat themselves at home, as improper therapies can cause fatal complications.

Anybody with such symptoms should go to a hospital for examination and treatment soon. As no vaccine against dengue is available, the main preventive measure is to kill mosquitoes that transmit the virus.