According to medical reports, scorching hot weather is conducive to foods perishing faster and an increase in the number of food poisoning cases.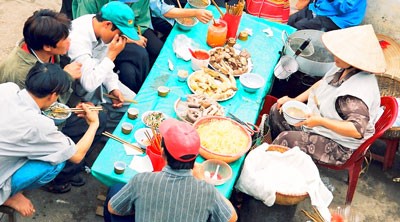 Roadside eateries and scorching hot weather are conducive to foods perishing faster and an increase in the number of food poisoning cases (Photo: SGGP)
Although food poisoning is not infectious, the number of hospitalized cases are on the upward trend recently due to hot weather conditions and partly because people practice lax behavior in food safety and hygiene.

On the last day of June, the General Hospital in the central province of Phu Yen received 29 food poisoning cases showing symptoms of high fever, diarrhea and vomiting after eating fresh bread from Thien & Tin Bakery in Tuy Hoa City.

In the Mekong Delta province of Ben Tre, more than 100 people were also hospitalized after having fresh bread from Minh Tuyen Bakery on Dong Khoi Street. Tests results showed that many suffered from E.coli, Coliform and Shigella bacteria, commonly present in meat, sour foods and rancid butter.

Not only food sold in roadside eateries but food in parties also causes poisoning. On June 23 and 24, more than 100 people in Tho Xuan District in the northern province of Thanh Hoa were taken to hospital for food poisoning after attending a wedding party at a local restaurant.

On an average, the country reports around 200 food poisoning cases a year with more than 8,500 victims. According to the Ministry of Health, in the first six months of the year, 64 food poisoning cases were hospitalized with 1,485 people and 15 deaths.

Hot weather and incessant rains in summer trigger food poisoning as people tend to neglect hygiene. Tran Quang Trung, Head of Vietnam Food Administration, said due to hot weather and lack of clean water in processing and cooking food as well as preservation, food poisoning cases have increased.

The health organs thus warns people to eat cooked food only and boil water before drinking, as well as wash hands before and after slaughtering animals and cooking food.

Health watchdogs in each locality must keep an eye on food businesses, sidewalk restaurants, and food catering companies.