The scorching sun in Ho Chi Minh City over the past week drove locals, especially kids and elderly people to hospitals.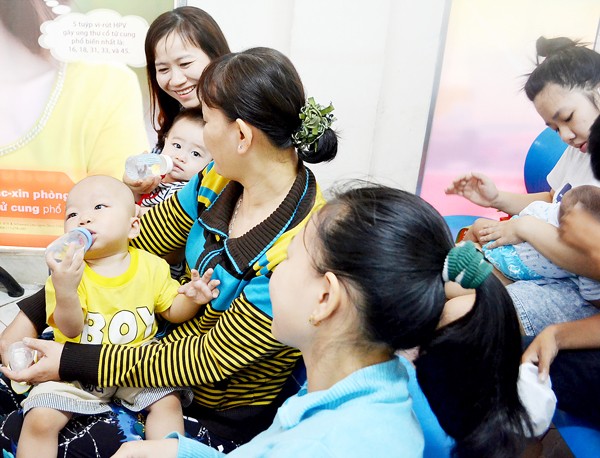 The kids and their mothers in hospital (Photo: SGGP)
The Children Hospital 1 admits around 6,000 kids suffering from respiratory, digestive problems and hand-foot-mouth. 
The hospital was crowded with kids and their relatives on April 17. Patients were seen in stone chairs in front of doctors' rooms and flower garden, lobbies.
Doctors warn that though diseases in hot season are not dangerous yet parents should not neglect or else it could lead to death.
Dr. Dinh Thach said that two most common diseases this season are respiratory infection and digestive disorders.
Respiratory illnesses are usually caused by different temperature between air-conditioned rooms and outside; therefore, parents should set room temperature properly. Moreover, parents should give kids with more water and keep the house clean.
Meantime, the Medicine University Hospital has seen the surge of patients from 4,000 to 5,800 people a day with most cases of digestion, blood pressure, heart problems and asthma. Meanwhile, the number of patients with mental illness increased in the Mental Disease Hospital leading to overcrowding.
Medical experts warned people not to go out in these days under the sun. Adults with hypertension must have enough water and measure on their blood pressure regularly.