A seven year old kid from the southern province of Dong Nai was found to have a large hairball blocking her digestive system.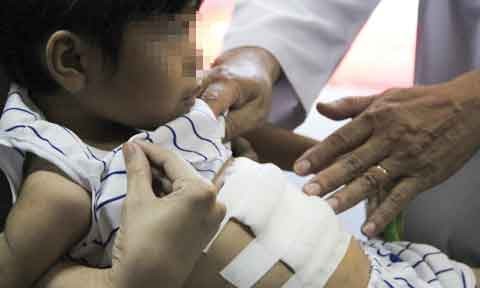 The 7 year old girl recovers after the surgery to remove hairball in her stomach(Photo: SGGP)
The girl was taken to the Children Hospital No.1 in Ho Chi Minh City when she complained of poor appetite, abdominal pain. Doctors soon took scan on her. Scans confirmed she had a bulk of hair in her stomach, which made it look as though the organ was solid and full of soft tissue.

She was diagnosed with Rapunzel syndrome, a rare condition in which a hairball (called a trichobezar) is found in the stomach, with its tail in the colon

Doctors explained that hair does occupied all the stomach so she could not eat anymore. Her mother said she usually scolds the girl when the daughter picks up hair and eat; she did not expect that the hair in the kid's stomach is a big ball. The little girl suffers severe malnutrition due to the disease. She weighs 13 kg only.

She was sent for behavioral therapy to help her stop picking up hair and eating her hair, preventing the need for further surgery to remove hairballs. Doctors instructed her parent how to help her stop eating hair at home.


What is Rapunzel Syndrome?
Rapunzel syndrome is an extremely rare condition where hairball are found in the digestive tract after a person ingests their own hair.It is predominantly found in emotionally disturbed or mentally retarded youngsters.
A hairball - called a bezoar - extends from the stomach, with it's 'tail' in the small intestine.
Hairballs are accumulations of human or vegetable fibers that accumulate in the gastrointestinal tract.
They increase in size because hair and fibre is not absorbed.
They cause abdominal pain and nausea.
Sometimes people can present at healthcare facilities with a mass, but no symptoms, but it can progress to tearing and obstructing the stomach and bowel.
Most hairballs in children are from swallowed hair from the head, dolls, or brushes.