Health experts have asked 33 people in a remote Indonesian village to quarantine themselves at home after the H5N1 bird flu virus killed as many as seven members of a family there earlier this month.
Epidemiologists have failed to track down the source of infection in Kubu Simbelang village in north Sumatra and the World Health Organization said this week limited human-to-human transmission between family members might have occurred.
"There are 33 people identified as close contacts. We've asked them to observe home quarantine. That's something they are willing to do to protect themselves and their families," said Dick Thompson, spokesman for the WHO.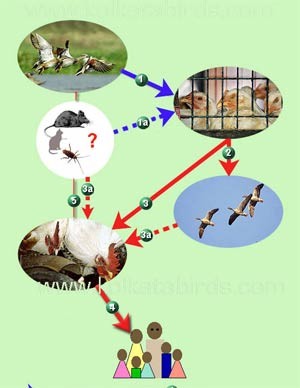 Bird flu H5N1 transmission Chart
Meanwhile, local tests have confirmed an Indonesian child from the city of Bandung died of bird flu, a senior health ministry official said on Thursday.
Local results on bird flu cases are not considered definitive and need confirmation from the World Health Organization.
I Nyoman Kandun, director-general of communicable disease control, told Reuters local tests have found two siblings admitted to hospital earlier this week in the West Java capital of Bandung was a positive H5N1 case
Tests on samples taken from chickens, ducks and pigs -- animals that are most susceptible to the virus -- in Kubu Simbelang village and another nearby area have proven inconclusive.
Fuelling the suspicion hanging over person-to-person transmission is the unusually long time lag of 15 days between the first and the last person in the cluster falling ill.
The incubation period for the H5N1 is usually no more than seven days and if the family had been exposed to the same source, they would all have fallen ill at about the same time.
The WHO has, however stressed that even if human-to-human transmission did occur, it was in a very limited way and the infection has not spread beyond the family cluster. In addition, scientific evidence has shown the virus has not mutated into one that can be easily passed among people.
H5N1 remains difficult for humans to catch, but experts fear it could evolve into a form passes easily from human to human, causing a pandemic that could kill millions.
(Source: Reuters)