Hundreds of workers were hospitalized in two food poisoning cases that took place on July 10 in the southern provinces of Binh Duong and Long An, causing serious concerns on food safety and hygiene conditions once again.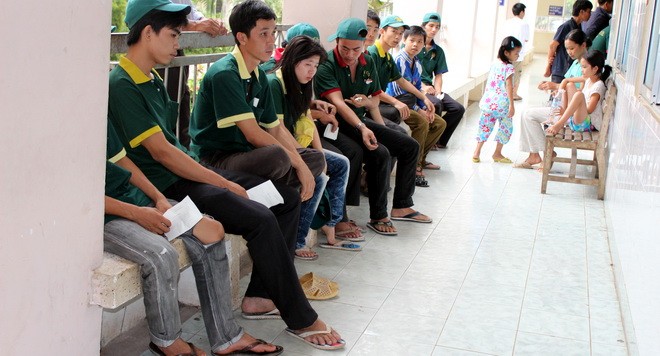 Workers of the Thinh Viet Furniture Company waiting to be examined
More than 50 workers of the Thinh Viet Furniture Company in Binh Duong Province were admitted to the General Hospital in Tan Uyen District on afternoon of July 10, some unconscious while others were vomiting profusely.
According to the workers, they had meals in the company canteen and began suffering soon after.
Dr. Le Van Minh said that most of the workers had been discharged from hospital except for seven who were still in intensive care and under observation.
On the same day, the preventive medicine center in Tan Uyen District took samples of the food for testing.
Also on July 10, 60 workers of the Le Long Vietnam Company in Ben Luc District in the southern province of Long An were taken to hospital when they complained of abdomen pain, diarrhea, fever and dizziness.
Many of them said they had developed food poisoning symptoms the night before but tried to go to work in the morning.
However their conditioned worsened and 36 workers were rushed to the provincial General Hospital and 24 workers to a hospital in Ben Luc District.
The victims said they had eaten cooked rice, braised pork, fried bluefish and cooked okra for their noon meal at the company's canteen on July 9.
After examining the patients, doctors at the hospitals said they seemed to be suffering from food poisoning.
Many of the victims have received continuous fluid transfusion, and two have been discharged from the hospital so far.