Hundreds of workers in Samil Vina, a 100-percent South Korean-owned company that produces outdoor clothing, in the southern province of Binh Duong yesterday were hospitalized due to suspected food poisoning after having their lunch.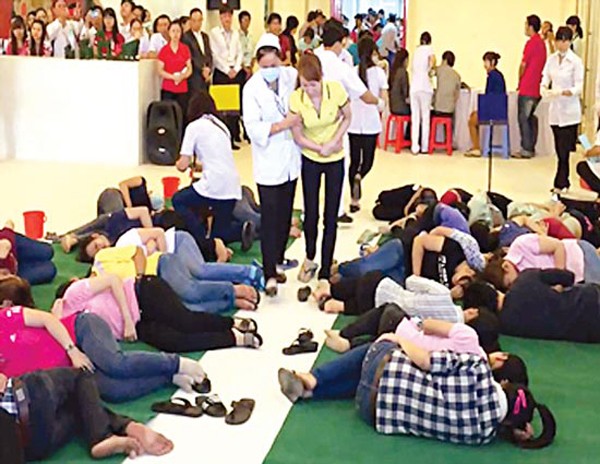 Illustrative photo by SGGP

Workers said 30 minutes after eating the lunch with poultry meat, eggs with sauce, fried kohlrabi and vegetable soup, they experienced vomiting, headache and breathing problem. They were all taken to hospital for emergency treatment.

The company hired outside caterer to cook the lunch.
An Phuoc Sai Gon infirmary received hundreds of workers with food poisoning symptoms; accordingly, doctors soon provided emergency treatment. More workers were taken to the infirmary at 3PM on the same day. Serious cases were transferred to big hospitals.

Local police officers are carrying out the investigation.

In related news, 51 workers of Ecotank in Cai Lay Town in the Mekong delta province of Tien Giang were discharged, others were under observation, said deputy head of the province's Department of Food Safety Trinh Phong Danh.

Before, on March 8, the workers developed pain in belly, vomiting, dizzy and breathing problem after they ate rice, poultry cooked with sauce, vegetable soup and fried beans. They were rushed to Tien Giang Central General Hospital for emergency treatment.