Many illegal Chinese doctors working at the Apollo Health Clinic in District 1 in Ho Chi Minh City suddenly decamped when health inspectors arrived on August 29.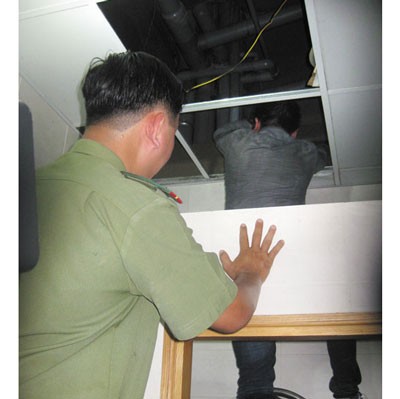 Health inspectors find out a Chinese "doctor" in the top floor of the clinic
Inspectors from the Department of Health, and from the Immigration Department, made a spot check of the clinic on 228-228 A Tran Hung Dao Street in Nguyen Cu Trinh Ward.
On seeing them, the Chinese doctors that are working there illegally, suddenly decamped.
The Health Inspectors only found two of the Chinese doctors, and a clinic worker affirmed that only these two Chinese men were working at the clinic.
However, when the inspectors went upstairs, they detected eight other people hiding in the restroom, on the top floor of the clinic and under beds.
Though the clinic produced registration certificates, not all the Chinese doctors could be verified. The clinic showed eight Vietnamese doctors registered--yet at time of inspection none were seen.
Moreover, all equipment, medicines, test reports, and patients' records in the clinic were written in Chinese without Vietnamese translation. Inspectors have seized eight packages of medications and incriminating documents.
At the time of the inspection, three patients were waiting to see doctors at the clinic.