Vietnamese food safety authorities have seized tons of meat and millions of eggs imported illegally from China since early November.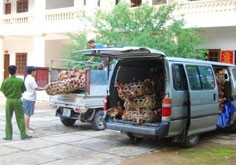 Chickens illegally imported from China found in the north
In the last month, quarantine officials at border gates in Quang Ninh and Lang Son provinces, which border China, have impounded duck, camel and ostrich meat, pig viscera and chicken and duck feet and wings, the Vietnam branch of the United Nations Food and Agriculture Organization (FAO) said yesterday, citing a report from the Veterinary Department.

Millions of duck and chicken eggs, horse bones and hamsters were also seized.

The volume of illegally–imported poultry meat stopped by border officials last month reached nearly 100 tons, the report said.

The FAO in Vietnam warned the illegal importation of poultry into Vietnam increased the risk of an outbreak of bird flu in winter and spring.