After 8-year implementation of in vitro fertilization (IVF), Tu Du hospital emerged in recent years in Southeast Asia with many successes in the development of IVF.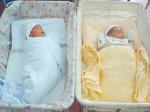 The 1999th and 2000th babies were born from IVF technique in Tu Du Hospital
Up to 15 December, 2005, it has carried out IVF for over 6.500 cases, giving birth to 2.073 babies. Foreign couples come here for infertility treatment annually.
Dr. Vuong Thi Ngoc Lan, M.Sc., Vice – Dean of Infertility Department, said that the hospital has started new IVM technique: feed an immature ovum in a special environment until it grows up, and then injecting in the sperms for fertilization. This is a complicated technique to treat these infertility cases for Polycystic Ovary Syndrome and is successfully treated only in large obstetric hospitals in the world with the successful rate of 20-30 per cent. According to medical records, only 300 babies have been born upon this technique in the world.
To find more information, please search the website:
http://www.ivftudu.com.vn/html/khoahiemmuon/index.htm