Many kinds of imported medicine have been sold at a 3% to 5% higher price in hospital pharmacies than in similar pharmacies nearby.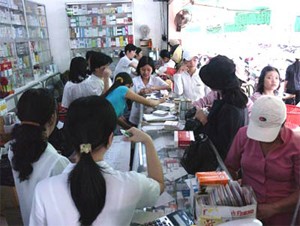 Are these people paying too much for their medicines?
After two weeks of investigations, the inspectors from the Ministry of Health finished their survey of pharmacies in Ha Noi and Ho Chi Minh City.
Investigators compared the prices of 151 types of medicine in both hospital and nearby pharmacies, and discovered that the hospital pharmacies sold 84 medicines at a 5% to 7% lower price, 55 (36.1%) were sold at the same price, and 7.9%, mainly imported medicines, were sold at higher prices.
Several violations were also discovered by the inspectors in many pharmacies.  Hoan My Hospital's pharmacy was found to have only 50% of the required medical invoices. Vimedimex Medi-Pharma Joint-Stock Company's pharmacy had several unidentifiable medicines, and E Hospital's pharmacy was selling expired medicine.