Medical system is continuously improved to offer for better healthcare for every people, the leader of the Ministry of Health asserted at a yesterday online meeting to review 10 years to implement the resolution of the political bureau on heightening healthcare services for the people in the new context.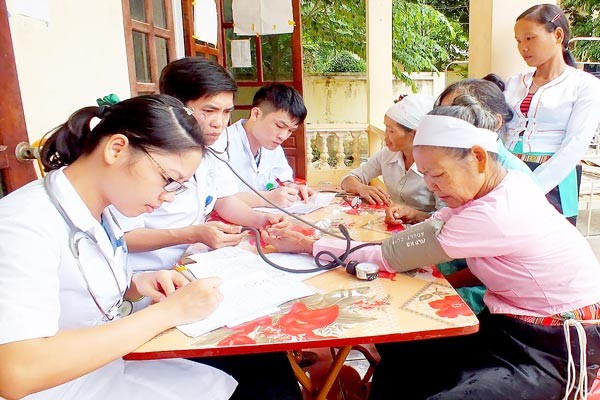 Medical workers in big hospital provide examination and treatment to residents in disadvantaged districts (PHoto: SGGP)
According to the Ministry's report, healthcare mission is placed the top policy of the Party and the government. Health Minister Nguyen Thi Kim Tien said that after 10 year implementation of the Resolution, all activities in the medical sector are regulated by law.

Through study, the average life expectancy of residents in the Southeast Asian nation increased nearly three years in the last 9 years.
The life expectancy of Vietnamese residents was 70 years in 2005 – the first year of implementing the resolution, and in 2014, the life expectancy was 73.2 years.

Along with this, there has been a decrease in infectious disease cases which help Vietnam achieve Millennium Development Goals for the period 1990 to 2015. For instance, the maternal and under 1 year old child mortality ratio dropped from 44.4 per thousand to 14.9 per thousand ; the rate of mortality of children below 5 year old fell from 58 per thousand to 14.5 per thousand in 2014.
These achievements are highly valued by international organizations; moreover, residents in all corners in the country received better healthcare, said Health Minister Nguyen Thi Kim Tien.

Noticeably, after 10 year implementation of the Resolution, the number of state medical facilities in the country increased from 879 to in 2005 to over 1,122 and the number of beds also surged from 17.9 to 25.4 bed per thousand inhabitants; the number of physician hiked from 6.03 to 8 per thousand population.
Especially, in 2005, around 28 percent of the country's whole population have joined in medical insurance most of them are state employees and poor people; currently, 71.6 percent of the population participated in.
The government has carried out policies to most support health insurance for the poor and minority people in disadvantaged districts and support 70 percent to families whose economic condition is near the poverty line. Thanks to that, spending on medical fee decrease from 57.31 percent to 47 percent at present.

Despite of that, the Ministry of Health said that medical system must be improved more to meet the increased healthcare demand. The Minister added that the sector will enhance international cooperation and scientific researches.