General secretary of the HCMC Reproductive Endocrinology and Infertility Association Ho Manh Tuong said that the rate of couple in child-bearing age who are infertile was 7.7 percent as per the Ministry of Health's statistics.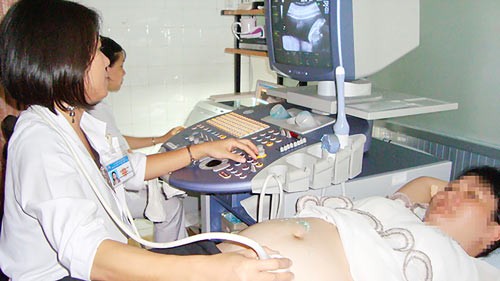 A medical worker examines a pregnant woman at Tu Du Hospital (Photo: SGGP)
This study result matched with a study carried out by the Central Maternity hospital and Hanoi Medicine University on 14,300 couples across the country.
The study showed that around over 1 million under 30 year old couples were seeking consultation and examination for infertility and half of infertile

Most of the patients at the clinic range between 31-35 years of age and come from all walks of life. Some couples are in their early twenties.

In many cases, infertile couples put off conception for work or financial reasons for many years after marriage. They may use a variety of different birth control measures during that period, said Mr. Tuong

For instance, a couple in Ho Chi Minh City's Tan Binh District do not have children though they got married for six years and they are waiting in the Infertillity Ward of Tu Du Maternity. The husband said they got married at the age of 31 but because of financial difficulties, they agreed to put off conception in two years to stabilize their living; accordingly they applied contraceptive methods including drugs.
But when their economic condition is improved, they had  waited for four years yet in vain.

Infertility is a growing problem among young couples in the country.  There is an upward trend in the infertile couples like the mentioned-above couple in Tan Binh District, HCMC.

Deputy head of the Infertility Faculty at Tu Du Doctor Hoang Thi Diem Tuyet said  the city's leading Obstetrics and Gynecology hospital receives every day  around 300-400 people seeking  consultation and examination for infertility.  

The number of infertile couples increase each year as ten years ago, the figure is just ten couples but it is thousand couples annually, said Dr. Tuyet .
Van Hanh Hospital said it received hundreds of couples who require examination and advices for infertility a day.

Dr. Tuong said that there were various reasons for infertility including unstable psychology. Moreover, Dr. Tuong announced more men are infertile nowadays while Dr. Diem Tuyet said that among 1 million infertile couples,approximately 50 percent of infertility issues come from the female.
Dr. Mai Ba Tien Dung, head of the Male Sexual Dysfunction Department of Ho Chi Minh City-based Binh Dan Hospital, said that 40-50 percent of male patients come to his department for disease relating to infertility including infections in sexual organs, erectile dysfunction, ejaculation premature.

A study on 14,3000 couples in the child-bearing age in 8 provinces conducted by the Central Hospital and Hanoi-based Medicine Hospital showed that the rate of essential infertility is 3.9 percent and it is 3.8 percent for secondary infertility. Recent studies showed that secondary infertility relates to infections in sexual organs, diseases due to increased abortion many times among teenagers and minors while in other countries, infertility relates to obesity and old ovary.

In addition, in the modern and industrial society, another fact that women tend to get married late and delay having children also causes increasing infertility rate. Moreover, eating foodstuff contaminated with chemicals, smoking, drinking and less exercises badly affect on sperm quality leading to infertility.

Doctor Nguyen Thi Ngoc Phuong, chairwoman of the HCMC Reproductive Endocrinology and Infertility Association also said that daily activities, employment and environment influence greatly to reproductive health.