Serious concerns have been raised on the quality of meals being served to workers in Industrial Parks, after hundreds of cases of food-poisoning have been reported each year, with many workers even succumbing to their death.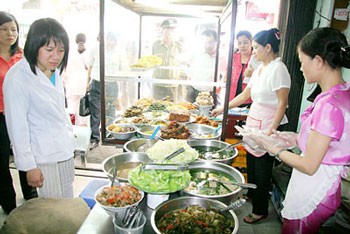 Quality of food being checked in a canteen in the Industrial Park (Photo: SGGP)
At noon, Huong and her colleagues spread out a plastic sheet on the lawns of the textile and garment company in Pho Noi Industrial Park in the northern province of Hung Yen, to eat their lunch together.
 
Today they are being served braised meat, fried morning glory, and watery soup. Huong says the lunch today is better than other days because there is meat. After the economic downturn, the company has made drastic cut-backs in meals, salaries and other bonuses.
The situation is similar for workers in all industrial parks in the country. Factories have cut-back on expenses on workers meals, and as a result quality of food has suffered.
Nguyen Thanh Phong, deputy head of the Department of Food Safety and Hygiene in the Ministry of Health, said many companies release VND15,000 (US$0.72) for one lunch meal per worker, while the actual cost is only VND7,000. The difference is pocketed by the middleman or person who places the order.
Health experts warned at a recent seminar organized by the Department of Food Safety and Hygiene, on the quality of workers' meals served at Industrial Parks and Export Processing Zones. The poor quality of meals is deficient in nutritional value and the lack of hygiene in preparing them could lead to serious food-poisoning. Some food items in the meals also contained dangerous toxic chemical substances.
According to the latest survey conducted by the National Nutrition Institute, poor quality meals can undermine workers health and lead to decline in productivity.
One meal should provide 12 percent protein, 16 percent fat and 72 percent starch. It is alarming that caterers supply meals cooked with ingredients of unknown origin and excessive pesticides. When serving meals to factory workers, catering staff pick up food with their bare hands and place on trays.
During a food inspection last year, 100 out of 371 food samples contained pathogens like E. Coli and toxic carcinogenic additives, which may cause diarrhea or other stomach infections.
The Department of Food Safety and Hygiene says that food poisoning cases in Industrial Parks and Export Processing Zones are beyond their control. According to statistics, from 2007 to 2011, there have been nearly 100 food-poisoning cases affecting 8,500 workers, with 6,600 of them being hospitalized.
In the third quarter of the year alone, the country saw 67 food-poisoning cases affecting more than 2,200 people who were all hospitalized, with 15 people reported dead.
The Department of Food Safety and Hygiene should propose to the Vietnam Labor Confederation and the Ministry of Labor, Invalids and Social Affairs to promulgate regulations on specific standards for workers' meals.