Contaminated powdered milk produced by China's Sanlu Group has not been issued a food hygiene and safety certificate in Viet Nam, and is not available in this country, according the Viet Nam Food Administration (VFA), part of the Ministry of Health.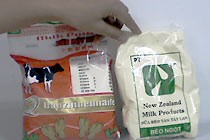 Such powdered milks withou clear indication of origin are on sale in many local markets
Given the possibility that the tainted powdered milk could be smuggled into the country from now on, a nationwide effort will search for spurious products and confiscate them, according to VFA.
The announcement and measures come in the wake of the recent scandal that erupted in China after more than 1,000 children were found to have kidney stones as a result of consuming contaminated Sanlu milk. Two Chinese children have died. 
Nearly 750 varieties of milk products have been registered with the administration since 2006, but none of them were from China, said Mr. Nguyen Hung Long, VFA deputy head.
However, Long admitted the VFA could not control the sale of the milk products that are sold without a clear indication of origins in many local markets.
On Hang Buom Street in Ha Noi there are many shops selling powdered milk. Merchants also sell cheap milk that does not have a clear indication of its origin.
The milk is sold by the weight and purchasers are invited inside the shopkeepers' homes. Generic milk is concealed so it is not examined by health inspectors. It sells for VND60,000 (US$3.60) to VND120,000 (US$7.20) a kilogram.