It was noteworthy that participants in the International Conference on Disarmament of Atomic, Biological and Chemical Weapon, the second of its kind, in Saintes, France put the effects of Agent Orange/ dioxin sprayed in Viet Nam during the war on the agenda for discussion.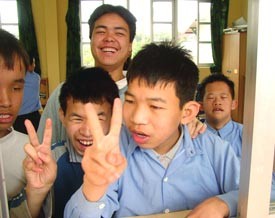 Vietnamese AO victims
Addressing the audience, President of the international committee in support of Vietnamese victims of Agent Orange (AO) Andre Bounie talked about the effects of this poison on the Vietnamese people. He called for support from delegates and international community for Vietnamese Agent Orange victims who are suffering from the mental and physical pains. He emphasized that the support for the Vietnamese victims of AO is support for peace.

Mentioning the Vietnamese Agent Orange victims' compensation lawsuit against 37 US defoliant producers, Andre Bounie criticized the verdict of the US Federal Court of Appeals to dismiss the victims' request. It is a travesty of justice not only to Vietnamese victims but to the world.
Over 100 delegates of researchers and social activists from 20 countries including France, the US, Japan and Russia attended this conference.