HA NOI — Experts have called for more funds to improve healthcare services for people living in island areas.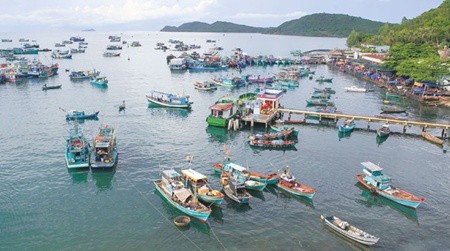 An Thoi Port in Phu Quoc Island in southern Kien Giang Province. Healthcare providers in sea and islands areas are facing a shortage of medical facilities and human resources. — VNA/VNS Photo Duy Khuong
This was revealed at an online talk organised by the Viet Nam Government news portal yesterday.
At the event, experts from the health sector said that services in the sea and islands was facing many challenges due to shortages of medical facilities and human resources.
They said there was a particular shortage of doctors trained knowledge in maritime medicine.
The healthcare sector also faces difficulties in increasing health insurance coverage in the areas due to shortcomings in the payment methods, the cost of first-aid - and difficulties with sea transport.
Deputy Minister of Health Pham Le Tuan said that first priority should be given to protect those living in sea and island areas, especially fishermen.
"Other key priorities must be focused on strengthening the capacity of island-based medical centres, units to transport patients to mainland hospitals and search and rescue centres," said Tuan.
He predicted that between 35-40 per cent of the country's population will live in coastal and island areas by 2020.
So health care for these people must become strong and comprehensive, breakthrough in efforts to ensure health care and protection for millions of people in coming years, added Tuan.
Viet Nam Insurance Agency deputy director Nguyen Minh Thao said that in sea and island areas, health cover was below 50 per cent, compared to the average rate for the country of 60 per cent.
Director of the Maritime Medicine Institute Nguyen Truong Son said that residents of sea and island areas had paid little attention to health care.
He said this was why it was important to strengthen awareness, especially in teaching people how to take care of themselves.
Survey results show that most fishing boats are not equipped with emergency kits or medicine boxes, said Son.
Statistics show that good progress has been made in one year developing the health project for the sea and islands. It was approved by the Prime Minister in February, 2013.
In the period, more than 1,640 patients received first aid, 32,070 were given treatment and 758 received surgery. Seven patients were saved by sending them to mainland hospitals by helicopter.