Israeli doctors will perform free eye surgeries for 100 people in Ninh Binh and Nghe An Provinces this month to mark the 61st founding anniversary of their country.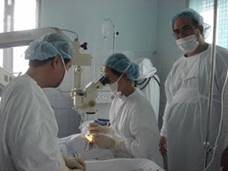 The file photo shows doctors of Eye From Zion conducting a surgery in Hue in March 2008
The campaign will run from February 17 and 26 and is being organized by the Israeli embassy in Ha Noi in coordination with the Central Eye Hospital.
The "Eye from Zion" program will be carried out by four surgeons and will also provide free medicines to the patients.
For the last several years the embassy has celebrated the anniversary with charity missions and this is the second year in a row it is organizing the Eye from Zion program.
Last year Israeli doctors treated 120 patients in the Central city of Hue and the northern province of Ha Giang.