To prevent vaccine injection accident like what happened in Ho Chi Minh City, the Preventive Medicine Department under the Health Ministry sent Correspondent No.760 to Health Department Directors and Preventive Medicine Center Directors in localities last week, requesting specific safety measures in vaccination.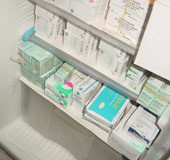 Vaccines are kept at district 1 Health Center
Health Ministry asked Health Departments to check and reorganize the management and distribution of vaccine and biological products in accordance with regulations. Health officials must keep the packages of unexpired vaccines two weeks after usage for checking.
After an urgent inspection of Hoang Duc Pharmaceutical and Medical Supplies Co. in District 11, on behalf of inspecting team, chief inspectors of Ho Chi Minh Health Department, Nguyen Duc An, said on May 21 that the business license of the vaccine selling company had expired since mid-January, 2006.
Before verifying whether vaccine Priorix which Hoang Duc Company had sold to district 5 Health Center is related to the vaccine injection accident, inspectors sealed their vaccine containers.
There are thousands of vaccine doses with 8 different types in there and the temperature for vaccine preservation seems to be appropriate.
In addition, hundreds of Prorix doses just given back to the company from an Ob-Gyn hospital were also sealed. The inspecting team took five vaccine samples for test.
In the next days, the team will continue inspecting some organizations trading with Hoang Duc company.