According to a report from a meeting on kidney disease April 4, over six million people (6.73 percent of the population) suffer from kidney failure in Vietnam. Eighty-thousand are in the final stage of kidney disease and hospitals are struggling to treat them.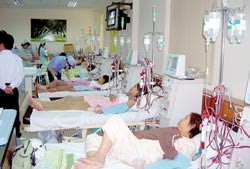 Many patients in final stage of kidney disease are on dialysis in An Sinh Hospital. (Photo: SGGP)
The meeting was held in Ho Chi Minh City with 30 doctors from 11 cities and provinces and international kidney experts.
115 People Hospital in Ho Chi Minh City is one of the hospitals that has treated renal failure and patients in the last stage of kidney disease for many years.
 
At present, 900 patients are receiving treatment for kidney problems at the hospital, said Dr Ta Phuong Dung, dean of Renal Medicine.
The number of people examined and treated at Cho Ray Hospital has been on the raise for many years. There are 700 patients who need dialysis while the hospital just has 46 machines.
Each day, Cho Ray Hospital must use dialysis for more than 200 patients, with 30-40 patients needing emergency care, a doctor said.
According to statistics from 115 People Hospital, there are 6,000 patients who need dialysis nationwide. Among them, Ho Chi Minh City has 2,000 patients.
There are 336 dialysis machines nationwide in 19 hospitals. All machines almost work non-stop due to the number of patients.
Prof. Nguyen Nguyen Khoi, a leading expert on kidney diseases at the Hanoi-based Bach Mai Hospital, said Vietnam has around 80,000 patients who need blood filtering. However, only 10 percent of them can afford the service. Typical dialysis costs $25 per session.
The causes of kidney failure are chronic nephritis, diabetes, high blood pressure, and kidney stones.
Many patients do not know they have a disease until it develops in the latter stages. Up to 50 percent of patients were also diagnosed incorrectly at initial presentation. This has led to people dying sooner.
Dr Tong Thi Song Huong, head of Health Insurance Department, was concerned about the annual costs of kidney disease to insurers.
Health insurance has paid VND300,000 per session for many years, with fees recently increasing to VND400,000.
The cost of treating renal patients was VND1 trillion in 2008, 10 percent of health insurance costs.
Dr. Huong said on average a kidney patient costs health insurers more than VND100 million per year. Therefore, the Ministry of Health needs to consider whether it should make patients with kidney disease pay more toward medical treatment.
Prof. Khoi said it is necessary to educate people and help them act on kidney failure sooner.
The State needs to have a strategy to treat kidney disease and enhance treatment quality with suitable prices for patients without insurance. In addition, the State should establish centers that specialize in kidney dialysis, Prof. Khoi added.