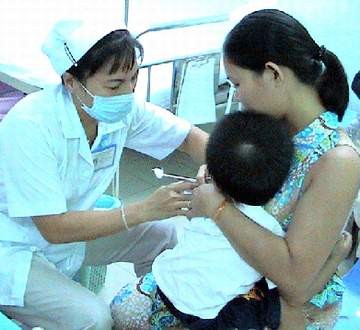 Immunisation is one of the most cost-effective ways to save lives and improve health
A free vaccination against five diseases will soon be available for free to all Vietnamese children, said Deputy Health Minister Trinh Quan Huan at a meeting of the Global Alliance for Vaccines and Immunization (GAVI) in Hanoi November 20 on providing vaccines to Vietnam to reduce child mortality.
After the meeting, GAVI pledged to supply the country with over US$37 million to purchase the combination vaccines, which guard against diphtheria, tetanus, whooping-cough, hepatitis B and haemophilus influenza.
The shot will be administered in 63 provinces nationwide and is intended for children under the age of one.
Mary Robinson, GAVI Board Chair, said although GAVI has struggled with the global economic recession, it continues its work to introduce new vaccines and fight the leading causes of pneumonia and diarrhea, the most common killers of children.