A Korean woman tested positive for the flu virus A/H3N2 and a Korean girl is awaiting the test result.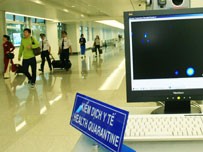 The equipment at HCMC's Tan Son Nhat International Airport to screen passengers for fever (Photo: TNO)
The woman was found having a fever while transiting at Hanoi's Noi Bai Airport on May 3 and was immediately isolated and rushed to the National Institute of Infectious and Tropical Diseases.
At Ho Chi Minh City's Tan Son Nhat International Airport, the health quarantine center on May 4 discovered the 10-year-old girl also with a fever and took him/her to the Pediatric Hospital No. 1.
The head of the Hanoi Institute, Dr. Nguyen Van Kinh, said the woman tested positive for flu but not A/H1N1, the swine flu virus sweeping through many countries. Her condition is stable but she has been kept at the Institute for monitoring.
Meanwhile, the HCMC Department of Health (DoH) has reported on the precautions it has taken against the disease to the Ministry of Health and city Party Committee and People's Committee.
It has reported that 51,095 travelers arrived at the HCMC airport between April 26 and May 5, including 3,630 from countries affected by the A/H1N1 flu.
On May 2 and 3, Tan Son Nhat airport quarantine personnel discovered nine passengers with high fever. Tests have cleared eight of them who have been discharged and the ninth is awaiting the results.
No influenza A (H1N1) cases have been reported in Vietnam so far, Deputy Minister of Health Trinh Quan Huan told a videoconference on prevention of the disease on May 4.
But he warned that infected people may not necessarily have any symptoms but can still infect others.
It has now spread to 21 countries and everyone, young and old, are at risk from the disease, he also warned.