Authorities carried out raids against alcohol shops and producers in Ho Chi Minh City after a spate of deaths from alcohol poisoning.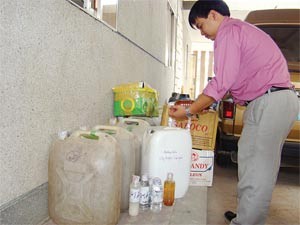 Market managing inspectors confiscate toxic wine
Inspectors raided illegal breweries and confiscated thousands of liters alcohol. However, lack of skilled investigators delayed detection of dangerous alcohol with no clear regulations for breweries. Subsequently, toxic wine circulated in the markets. 
In the wake of a spate of deaths from alcohol poisoning, the city's People's Committee ordered concerned agencies to discover producers of dangerous liquor.  
Inspectors from the Department of Health and Market Managing Bureau toured the city and discovered 2,000 liters of wine with no invoices and a large number of bottles without labels at Saigon Food Company (Safoco) in Thu Duc District. A recipe for making wine, according to the factory's director, is to mix water, alcohol and flavorings. Each bottle is priced at VND4,000 – 20,000. Many of Safoco's products were discovered to contain methanol levels 70-82 times higher than allowed.
Methanol is a toxic chemical used as solvent, fuel, and in antifreeze for motor vehicles. The legal content of any alcoholic beverage is less than 0.1 percent. But many wine products have been found to contain high levels of methanol, aldehyde and furfurol.
Questions have been raised as to whether the producer will ignore the orders of inspectors to recall their products. Though the company says it has heightened quality control by installing a camera.
Recently, inspector of the Thu Duc market managing board Le Van Thanh paid VND32,000 to buy four bottle of Safoco - wine from a vendor.
The Market managing inspector, Mr. Le Van Thanh, said that illegal wine has overloaded the warehouse as there are so many unlicensed businesses producing liquor.
In addition, most producers of liquor in Hoc Mon, Binh Chanh and Thu Duc districts are poor residents. Some are immigrants who set up distilleries and able to leave quickly setting up elsewhere.
It takes VND600,000 to test a wine sample. Inspectors confiscated 100 liters of 60-70 various kinds of wines at an illegal distillery. Moreover, the disposing of illegal liquor is causing a hangover for authorities.
Related articles:

City to tighten controls on alcoholic products
Unsafe alcohol found in northern provinces