The biggest baby ever born in Viet Nam arrived yesterday in Da Nang Hospital after a Cesarean section surgical procedure, weighing in at 6.5 kilos. The news of the newborns weigh came as a surprise to both the family and the hospital staff.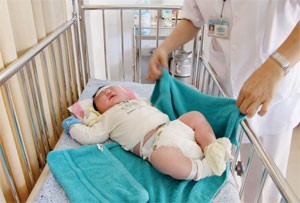 Viet Nam's biggest newborn baby

The newborn baby girl is the third child in the family. Her 32-year-old mother gave birth to two children before her who weighed 3.8 kilos and 4.2 kilos respectively at the time of their births.

When interviewed by reporters, the father told them that his wife had gone to see a doctor during the fourth month of the pregnancy and was told that her would-be-baby was underweight. "Then my wife followed a highly nutritional diet until she gave birth to our child." he said.

Doctor Tran Dinh Vinh, Head of the Obstetrics Department at the hospital said, "I have 18 years experience in this department and this is the biggest baby I have ever seen. Her health is quite normal, even better than the other newborns."

Before this case, the biggest baby ever born in Viet Nam weighed 5.3 kilos.