Swine flu deaths have occurred in Vietnam because patients took Tamiflu pills too late, a health official said at a meeting held by the National Steering Board on Flu Prevention in Humans in Hanoi September 16.
Cao Hung Thai of the Ministry of Health's Treatment Management Department said his and other agencies studied the fatalities and discovered that five out of the six victims also belonged to high-risk groups like people with chronic diseases and malnutrition.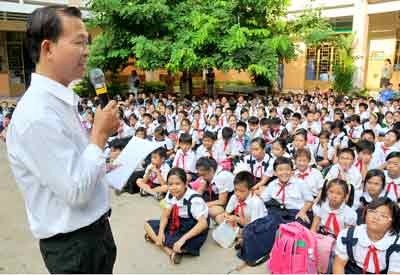 A teacher at Tran Quoc Tuan Primary School in Tan Binh District instructs students on warding off swine flu and protecting themselves from the disease (Photo: SGGP)
Moreover, they were taken too late to hospital that treatment with Tamiflu failed to be effective, he said.
Deputy Minister of Health Trinh Quan Huan feared that with swine flu becoming widespread, more people would be treated at local hospitals where treatment quality is low, and ordered the Human Flu Treatment Bureau to train workers at these centers in treatment procedures.
He instructed medical facilities to provide Tamiflu pill to people in high-risk groups without waiting for test results, warning it could otherwise be too late. Medical establishments must ensure adequate supply of the drug, he said.
Nguyen Tran Hien, director of the Central Institute of Hygiene Epidemiology, said the fact that 70 per cent of flu cases are testing positive for A/H1N1 flu shows that the virus is spreading among the wider community.
Meanwhile, authorities announced 144 more people tested positive for swine flu September 16, raising the total number in the country to 5,648. During the week 1,104 infections have been reported, an increase of 6.3 per cent compared to the previous week.
But the virus has so far shown no signs of mutating into more lethal forms, Mr. Hien said, though 12 nations have reported around 20 cases in which it has shown resistance to Tamiflu.
Mr. Huan said the peak season for the disease would be end 2009 and early 2010 and called for strengthening outbreak surveillance and providing early treatment to prevent its spread and deaths.
Vietnam has begun an initiative to raise its capacity in coping with A/H1N1 flu, a Red Cross official said in Hanoi September 16.
The "Humanitarian Pandemic Preparedness" (H2P) initiative, designed by the International Federation of Red Cross and Red Crescent Societies, would last from August 2009 to July 2010, the chairman of the Vietnam Red Cross, Bui Ngoc Tang, said at the closing ceremony of a regional conference flu epidemics.
H2P would focus on health care, food safety, and livelihood at the community level, he added.
The Vietnam Red Cross also called on international and non-governmental organizations and Vietnamese partners to support the project.
H2P, with assistance from the US Agency for International Development, has been implemented in 20 countries threatened by the pandemic.
Also on September 16, the Ministry of Health urged the Ministry of Science and Technology to speed up research into the A/H1N1 vaccine and ordered the National Steering Board on Flu Prevention in Humans to provide enough Tamiflu pills for cities and provinces hardest hit.


Dr. Nguyen Van Chau, director of the Ho Chi Minh City Department of Health, announced September 16 an outbreak of swine flu at Nguyen Thi Minh Khai Primary School in District 12 in which 30 children have been infected.

The district Department of Preventive Health has sprayed disinfectants at the school.

The city recorded September 16 more 36 cases of infection, taking the number of victims so far to 2,383.