After many children were admitted to hospital from lead poisoning recently, Bach Mai Hospital in Hanoi took samples for testing which showed a high lead content in the children.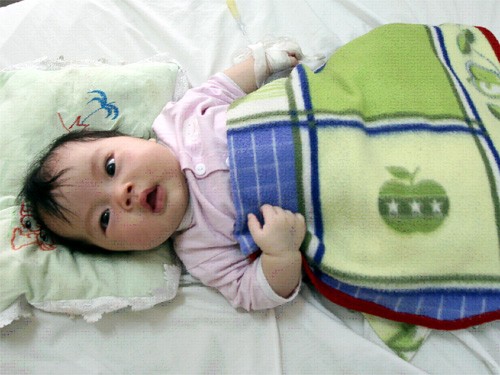 A 5 month old toddler receiving treatment at Bach Mai Hospital after she consume powdered orange coloued traditional medicine
Bach Mai Hospital reported that since the beginning of this year, it had treated more than 130 children who suffered from problems caused by lead poisoning.
Most of the children hospitalised for treatment had been fed on a kind of powdered orange coloured traditional medicine, said Dr. Pham Due, chief of the anti-poisoning centre in Bach Mai Hospital.
The medicine which is packed in paper or plastic bags with no printed information is administered to children by simply applying it to the lining of their mouth or tongue. The lead content in these medicines varies from 21 to 60 per cent.
Local authorities nationwide have been asked to inspect traditional medical centres after hundreds of children suffered lead poisoning caused by a medicine to treat thrush, a yeast infection of the mucus membrane lining the mouth and tongue.
Local authorities have been asked to issue a ban on peddling oriental medicines at markets or festivals.
According to medical experts, children who suffer from heavy lead-poisoning are in high risk of suffering from other complicated physical and mental problems and can develop symptoms of convulsion, coma, and anemia.